The way our team of experts come together on each project in Languedoc - builders, plumbers, electricians, carpenters - is the key to our success. The case studies below give an idea of the breadth of skills that we can offer, and how they come together seamlessly to ensure high-quality results and less delays and hassle.

Cinq & Sept Luxury Guesthouse, Roujan

The clients developing the Cinq & Sept guesthouse were at their wit's end. Their builders had let them down, and their first guests were arriving at a still-unfinished guesthouse. The team at EGCV took over the works, and in only a couple of weeks had finished the huge pool and surrounding terrace, paved the entire garden with sandstone tiles, created perfectly-formed steps and huge planters for lavender and bamboo, and installed and plumbed an old fountain. "The quality of the tile-cutting was very impressive - with some very complex shapes achieved around the fountain. We haven't had any problems since with the pool - despite it being an unorthodox design. The team were very good natured, professional and speedy." - Alex Charles, Cinq & Sept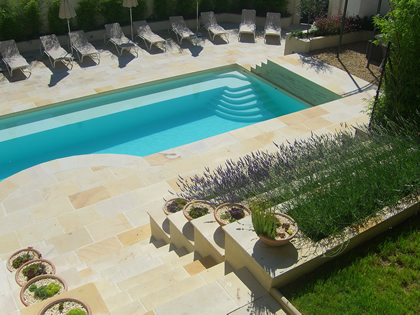 Home in Pouzolles, Hérault
EGCV was called upon to incorporate a three-season porch into the habitable space of a home in Pouzolles, Hérault. The green plastic translucent roof was replaced with a new, well-insulated structure. Set between the living room and a lovely garden, a proposed ceiling of beadboard in the form of a 'barrel vault' was enthusiastically welcomed by the clients. A bearing wall between this former porch and the existing kitchen was opened for 2.5 meters, assuring easy access to all spaces on the ground level. Access to the kitchen had formerly been through the garage and wash room.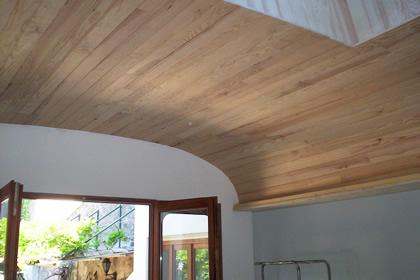 Mati & Construction was subsequently called back a handful of times to replace the roof on this home, 'custom' furnish a studio/atelier on the upper level, and insulate and finish the ceiling of the garage.
Conversion of an attic into an open-plan room
It was the potential of the attic space which seduced us, the buyers of this turn of the century 'maison vigneronne' near Beziers. The joints of the existing stone walls were cleaned out, new wiring introduced throughout, and the walls exquisitely re-pointed by Mati & Construction.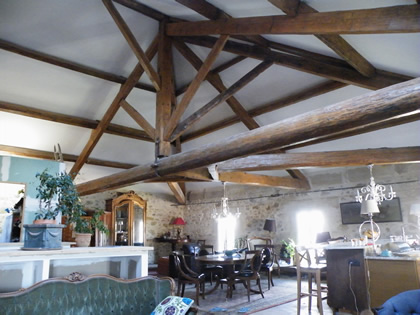 Roughly 6 m2 of period tiles in 6 different areas of the floor were badly fissured and in need of attention. Their great crew attentively replaced/repaired the wood structures in the affected areas, and seamlessly introduced over 200 tiles 'of the same period,' a perfect match. They likewise sanded, treated, and stained the magnificent 'charpente,' the wooden beam structure overhead. And painted the ceiling throughout. We are elated by the results.
Introduction of a finished pool surround
Ours is a magnificent 'maison de maitre,' with chapel and gardens on three sides. In one of the gardens, our pool was not 'presenting' well, with its 'surround' in grass, and its border tiles falling away. Mati & Construction accompanied their proposal with drawings, and realized a complete 'remake' of the garden, with planters defined by knee walls in beton along the perimeter, a renovated sprinkler system, new lighting and outlets dispersed throughout, and drains strategically placed on the new stone covered surround they introduced.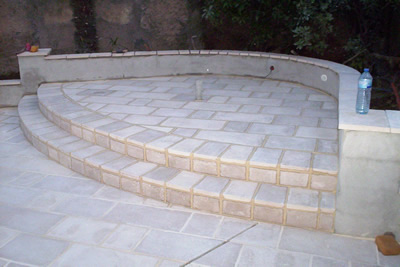 When the rare storm comes through, no standing water remains. Thrilled with the results, we then invited Mati & Construction and their plumbers and electricans to return to introduce 3 new showers in our ensuite bedrooms. The materials and workmanship were 'top shelf' - especially for Languedoc.